Colour Fastness Testing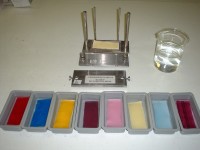 Colour fastness tests establish the fitness for purpose of the fabric and help identify the appropriate care label instructions.
Colour fastness is a measure of two different properties of a textile, the degree to which it changes colour when subjected to a particular treatment or environment, and the tendency for the textile to cause staining of other fabrics with which it comes into contact.
The colour fastness properties of a textile will be related to the type of fibres present, the construction of the material, and especially to the type of dyestuff used and the method by which it has been applied. Fibre dyeing offers the best results, compared to yarn dyeing and the worst results are often found with piece dyeing (fabric dyeing). Similarly certain types of dyestuff offer better fastness, but at an increased cost to the customer.
Occasionally, the dyeing process can result in a reduction in other physical properties and it is up to the dyer to obtain a balance in all these respects
To download a list of the colour fastness tests carried out by HSTTS please follow this link to download our services brochure or contact Scott Wiseman on 0113 2488830 or e mail at scott@hstts.co.uk