Product Inspections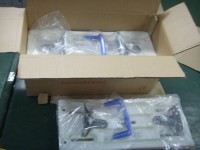 Through their global partners HSTTS can offer the following inspection services
Initial Product Inspection (IPI)
A product inspection carried out when less than 20% of the order is processed. Production samples are compared to buyers agreed standard (sealing sample).
Any deviation from standard is compiled in your reportalong with any necessary corrective actions.
During Production Inspection (DPI)
A product inspection carried out when between 40% and 60% of the product is manufactured. We verify that any corrective actions have been carried out and check on the average quality of the production run.
Final Random Inspection (FRI)
Inspection of the product during the final stages or when the product is to be loaded. In addition to product quality, packaging and labelling is also checked agains requirements.
For further information please follow this link to download our Inspections Brochure
If you have any further questions ot would like to discuss our capability in this area please contact Paul Jones on 0113 2488830 or e mail miladafiddes@eurofins.co.uk