Training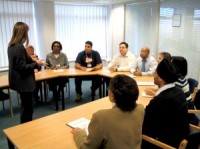 In a world where lead times are short, costs are high and time is a rare commodity, Training often has to take a back seat. Similarly, in a market that has been losing experience and expertise for many years, it is rare for companies to possess a full range of skills and knowledge that it needs to be technically self-sufficient.
HSTTS addresses both of these problems with our bespoke training courses, we do not offer a standard "chalk and talk" approach, all our courses are tailored to your company needs and are fully participative. We encourage you to bring along current problems and discuss these in the learning atmosphere, call it free consultancy and advice
Our courses are geared for a maximum of six people to allow the instructors time to devote to each person, most of the time is spent in the laboratory utilising a hands on approach, the old saying of "tell me and I will listen – show me and I will understand" is very true.
BY applying the knowledge gained on the courses, the benefits to your business are immediate and measurable, participants will be more aware and able to ask more searching and relevant questions.
Each course participant receives a course manual and certificate of attendance, more importantly will leave with a contact list of experienced and knowledgeable people at HSTTS that they can call for advice at any time.
For more info please email vikki@hstts.co.uk or call on 0113 2488830 or use our Contact Page