Physical Testing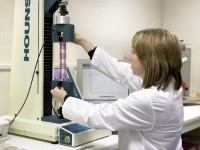 Physical testing can be divided into four main areas
Fabric construction
This can include, weight, type of weave, number of threads or stitches per unit length and yarn properties ie count and twist factor.
The information gained from these tests can indicate potential problems or solutions to the performance of the fabric or garment
Physical properties
The main tests in this category will include seamslippage and strength, tensile strength and tear strength. The results will indicate potential problems in garment manufacure, invariably style and fit will play an important part when analysing these results.
Wear properties
These tests determine how the fabric or garment will perform during everyday use.The main tests will include, abrasion resistance, pilling resistance, snagging and crease recovery.
Dimensional stability
These tests will determine the extent to which a fabric or garment will shrink or extend during the nominated cleansing process. The test results are used to confirm or determine correct care labelling.
To download a list of testing carrieed out by HSTTS please click on this link to download our services brochure
For further information please contact Scott Wiseman on 0113 2488830 or e mail scott@hstts.co.uk