Toys & Childcare Products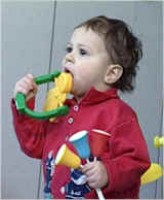 There is probably no more worthwhile or necessary testing than that done on toys and Childcare products.
The UK Toy Safety Regulations (2011) (SI 2011 No 1881) apply to manufacturers, importers, retailers, hirers, and other suppliers of new and second hand toys. In fact anyone supplying toys in the course of business, even toys distributed free of charge are covered by the Regulations.
HSTTS can provide a total solution to Toy and Childcare Product Safety
Risk evaluation
Testing to Internationally recognised Standards e.g.

ASTM

and

EN71

Toy Life Cycle Assessment
Age Grading Evaluation*

WEEE

and RoHS consultancy
Training and Seminars
Our experts include Technicians, Engineers, Chemists and Psychologist, all with many years experience in evaluating ant testing the many and varied toys and infant products that reach the market.
When customers are kids, to provide a guarantee of safety and quality means that we respond to a fundamental ethic principle as well as being an essential partner in a market that is increasingly aware of potential hazards.
Follow this link to download the DTI Guide to the UK Toy Safety Regulations